Presentations are easy to create, update, and an effective way to inculcate visual interest in people. But sometimes expert presenters also do some disasters while making presentations. The secret to success is – it must be a visual aid and not a visual diversion. It must portray the message you want to share across.
The most powerful tips and tricks help you make a killer PowerPoint presentation.
Tips for making killer Presentations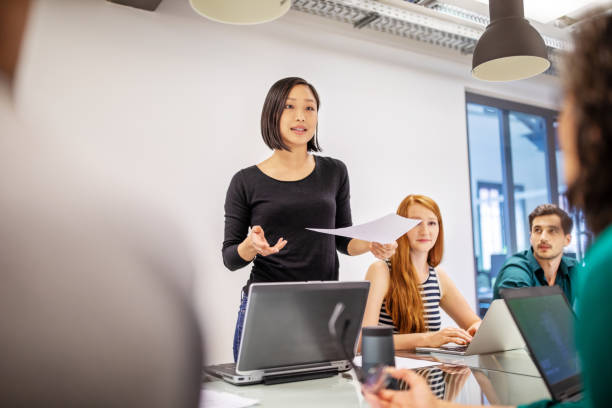 Font Style & Size
Avoid Times New Roman Palatino font. Instead, use a single sans-serif font that is easy to understand, such as Arial or Helvetica. You must avoid italicized fonts as it is difficult to read fast.

 Use font size 24 points or more. Use the same font for headlines and bold it. Select a different font for body content. Level all the slides. For the "Title", use larger font of around 40-45 points with a different colour. Select the larger font to provide importance.
Keep Simple & Consistent
Create a consistent and simple design template using the slide master features. Be consistent with the elements like colours ( Stick to two or three colours max), background, and fonts. The content presentation, like bullets, text, and images can vary. Use a maximum of 2 or 3 fonts. Use strong contrast in your presentation.

Pay attention to the visual hierarchy. The focus should always be on one idea per slide.
Use only essential words or phrases.
Limit words on every slide and simplify it, use only key phrases and useful information. Avoid using words in all Caps, and avoid punctuation. Space increases readability. Patterns in the background can reduce readability. Light-coloured text on a dark background is the best.
Minimize the use of flashy effects
Overuse of animation and other special effects and sounds should not be suggestable. Because it might look "cutesy" that negatively impact your credibility.

Use high-quality images that add complement to your work. Ensure that your images play excellent impact and have high resolution when displayed on the big screen.

Avoid using flashy transitions. Although this feature looks impressive but it could impact negatively. Use one image per slide.
Limit to fewer slides & Practice jumping off slides
A limited number of slides should be good to engage audiences. One slide per minute will be good.

Navigate your ppt in a nonlinear fashion as it allows the presenter to jump forward and back without touching interim slides.

You must learn to move forward and backwards within the slides, as the audience may ask to see the previous page or so.
The proper size of images & Texts
Check your slide on the screen which you will use in the presentation, and ensure that texts are readable from the backseat. Graphic images should be big enough to read but not too loud as a visual.

You must remember that transparencies and handouts will not show special effects and animations. Plan it according to these technicalities.

Show a person who has never seen your presentation before and ask for honest feedback overall, such as colour contrast, background, content, and effects included, if any.
Avoid reading from the slides 
Remember that slides are for the audience, so avoid reading from the slides. Make the presentation interactive.

Don't face towards presentation, face should always be towards the audience.

Don't apologize for anything you have done in your ppt. If you think any font is hard to read, do not use that font. 
Crucial aspects to note
If you utilize builds, content should appear simple and consistent. The top and left will be best probably. Use it only if you need it, as it makes the presentation slow.

Before completion, don't forget to check the spelling and grammar.

While presenting, you should know your audience. Always keep eye contact with the audience.

Make all images in the same size. Otherwise, it does not look good.

Use audio and video if required, but try to use a smaller file size.

Show data in your slides and visualize it more professionally.
Deadly points
Avoid these visual cliches.
Don't use many Slide Transitions And Sound Effects as these distract audiences. As a result, it becomes slow.

Do not use Standard Clipart instead you must use trending shapes to present your message.

Use your unique design with the company logo instead of using Presentation Templates. It looks more professional.  

Don't write more text in the slides. You also should avoid paragraphs, quotations, and complete sentences. Just use phrases to reach your message.

Keep a backup copy of your presentation. You never know when technology betrays you.

Know your audience. If you already use the Me word, change Me to We immediately. 
If you follow these vital points while making a presentation, nobody can stop you from getting the success in making a presentation.