Web development trends are changing at a rapid pace, and a CTO should stay up-to-date with them. If you want to hold your position in the online market, you cannot overlook the world of web development innovations. All prominent names in the business have managed to make a mark by understanding the web game effectively. Below are some of the latest web development trends for 2021 that a CTO should be aware of.
Mobile-friendly Web Applications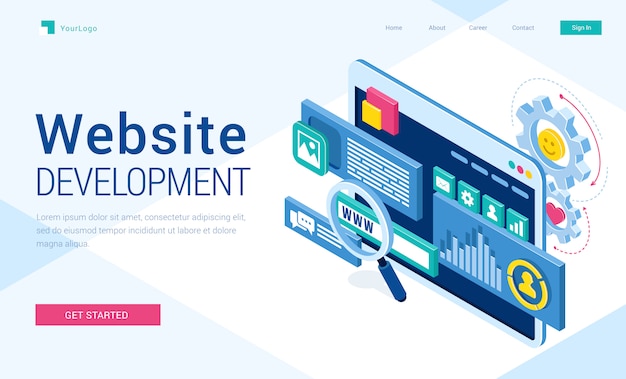 Today, almost the entire world is on their smartphones, browsing numerous web applications. People hardly bother to switch to their computers while using a web application. It has increased the demand for preparing mobile-friendly web pages that will offer users a seamless experience.
Users look for those websites that can open easily on their mobile phones without using many resources. Thus, lightweight web applications lead the trend list, which can access even with a poor internet connection. Web developers should emphasize reducing the loading time of an application that will instantly attract visitors' attention.
Animation Integrated User-Interface
A web application user interface holds a lot of importance, and it should score full marks with users. Animated UI is the latest trend that is doing great with all types of visitors. A CTO should try and add some motion graphics in the interface that will break the monotony.
People visiting the website will show more interest in the products and services if they feel the interface is appealing. It will stay for a long time and will long to come back again to avail themselves of another service. Thus, the website will draw in more traffic, which will increase the sales of the business.
Voice Search Optimization
Various voice assistants have been introduced in the past few years, and they are an integral part of many people worldwide. Who would want to type and search for something when he can command a device for the same. Therefore, being a CTO, you cannot overlook this web development trend in today's modern world.
It would help if you implemented voice search optimization techniques on your website to become more user-friendly. People using voice search devices can access your website and have a better experience while using it. Thus, a company's brand value will enhance, and it can reach out to more customers.
Integration of AI for Data Safety
A website collects a vast amount of data from users and should protect it under every circumstance. Data is one of the most crucial factors, and cyber-criminals often target it. Artificial Intelligence is a powerful technology that can ensure the highest security of data stored in a web application.
It would help if you integrated Artificial Intelligence (AI) tools into your website to prevent security attacks. Thus, user data will stay safe and can maintain confidentiality within the website. It will increase the trust of users, and they will rely more on your website.
Live Chatting Options
Live chatting options have helped many companies in connecting to their potential customers instantly. This feature will allow a customer to engage with a support staff directly after entering the web application. He can shoot his queries, and the customer support desk will come up with instant help.
Both customers and business houses benefit from live chatting options, which helps increase the popularity of the web application. Companies can identify their potential leads by interpreting the queries posted in the chat boxes.
It will help the marketing team in designing strategies for converting the leads into sales.
Revived SEO Techniques
Your web application will fail miserably in the online market if it is not optimized effectively for search engine result pages. Numerous SEO techniques are prevalent in the world of web development and are revived regularly. Understanding these latest techniques is very important for a web developer who wants to make a mark.
Web applications that are optimized for bounce rates attract more traffic than others. Besides, developers should also emphasize reducing the page loading time to help users have the best experience after visiting a website. Several other SEO strategies are currently trending in the online world that should consider enthusiastically.
Shifting to the Cloud Server
Cloud computing is a familiar term with website developers, and its popularity is widespread. Some of the prominent options for cloud services available today are Amazon Web Service (AWS), Microsoft Azure, and Google Cloud. These cloud service providers offer the best help to help you eliminate a lot of hassle while designing a web application.
Cloud computing offers scalable services where one need not worry about integrating infrastructure. A web application will have a vast database protected and maintained by the cloud service provider.
Responsiveness
Hire a website designer who designs with responsive features that will enhance its quality many fold times. Users search for dynamic web applications that will serve their needs without much hassle. You can make your website responsive using CSS and HTML as they help design an excellent layout.
All the media files present in your web application should be mobile-friendly because the clicking rate is higher for mobiles than computers. It the best if you also focused on the readability of the typography as it is responsible for grabbing the attention of visitors. If you can learn the hacks of designing a responsive web application, nothing can stop you from reaching heights.